I love spinning - and it has wonderful therapeutic effects for me, especially when I have a raging headache. But the physical element to spinning on a treadle wheel just isn't always an option. With fibromyalgia & CFS, the random aches, pains and fatigue sometimes make doing anything physical, especially consistent motion difficult, if not impossible. Some days, my back & legs make it clear that they don't care how badly my head is hurting, spinning isn't happenin'. (If you've never seen a spinning wheel in person, or noticed what their legs/feet are doing, check out this
quick video
- this is my exact wheel, and shows someone actively spinning.) I still love my Ladybug and still spin on her as often as I can (here's
my current spin
), but I can't always sit down and spin my headache away.
Shortly after our move, I took the plunge and ordered a
Hansen MiniSpinner.
I'd heard awesome things about this model of electric spinner for a while and realized that I could have the therapeutic benefits of spinning, even when my body wasn't cooperating. The hubs & I talked about it, I saved up, took a deep breath and behold... Janis!
Yeah, I named my miniSpinner. What of it?
I
love
my miniSpinner! She spins well, she's quiet, the craftsmanship is outstanding, my spinning time has been more productive, my yarn is beautifully consistent & I'm not in pain! Set up in Scotch tension, I have lots of control over my spinning, whether I'm using the Hansen flyer or the Woolee Winder that I purchased with it.
My spinning output has gone through the roof! Especially during the 'remodel all the things' portion of our moving experience, I could grab Janis & a braid of fiber, spin for a bit, then tuck it all safely away in our hutch when it was time to work on trim or organization or that one time the ceiling fell in in our kitchen... But that's neither here, nor there.
First, I spun up the sample that was included with the miniSpinner.
Beautiful fiber from Abstract Fiber
- which I need more of in the future! Such an easy spin!
My first full braid was spun on the Hansen flyer, a lilac & gray braid from
Phoenix Fiber Co.
I love the finished yarn, but it took some doing. I learned the ever-important lesson of making sure you know what direction your flyer is turning before you set twist to your fiber (and how easy it is to get that wrong on an e-spinner...).
When you spin yarn, you spin your single in one direction and, if you have a plyed yarn, ply in the opposite direction. The opposing twist energy makes the yarn balanced and helps it hold together. On a treadle wheel, you have to check this every time you start to treadle and I've never had a problem going the wrong way. On the miniSpinner, the direction of twist is set using a little lighted switch on the front of the miniSpinner: green light denotes the flyer will move clockwise, red light denotes the flyer will move counter-clockwise. I remember pushing in the switch, but must have held it past red, when it alternated green again. So instead of adding twist in the opposite direction, I added MORE twist in the first direction.
This is why this was a bad thing:
Instead of looking like yarn, it looked like lilac and grey ramen. There was nothing to be done with this mess. Knitting with it would have been folly and even weaving with it would have been undesirable, not to mention I don't weave! All that twist was out of control and causing each strand of fiber to push away from the others (instead of twisting toward each other). I was a little distraught when I realized what I had done.
Thanks to some super helpful gals on Ravelry, I got some pointers on how to fix this.
After a while in time-out, I decided to try again. If you ever make the same mistake, ping me on Rav & I'll explain how I fixed it! It wasn't a quick fix, but it worked & transformed this twisty, ramen mess into this lovely finished yarn!
Next up, this
gem-toned Loop bump
.
Janis is a sexy lil thing, is she not?
Because I was on such a roll, I felt confident I could spin up this lovely
gradient from Fiber Optic Yarns
& not botch it too badly.
It worked out pretty well & happily worked into a
lovely shawl
when I was done!
Within a few weeks, I'd nearly spun as much yarn as I had the entire year previous! I was feeling pretty confident (as long as I had my green/red button situation worked out) and decided I was ready to participate in Tour de Fleece.
The Tour de Fleece is a completely made-up fun thing for spinners, whether you spin on a wheel or a spindle, or both. The basic idea is that each year during the Tour de France, you will set a personal spinning goal to challenge yourself, just like the athletes competing do. Every day that the tour rides is a spinning day, rest days are exactly that, and challenge days should bring some sort of challenge. Each spinner sets their own goals & we all cheer each other on via social media. At the end, hopefully, you've got some lovely spinning done and some teams even give out prizes! (If you just want to ogle some GORGEOUS color in handspun yarn or prepared fiber, check out #tourdefleece2016 on Instagram. Even if you're not a spinner or knitter - so much pretty on there!)
With the idea of truly challenging myself in mind (and the fresh-in-my-mind amount of wool to be spun in my newly moved & reorganized fleece stash... cough), I decided to spin one of the sweater quantities of top that I had been keeping 'until I was a good enough spinner'. The time is now! (...was then? Whatever.)
I pulled out 2 1/2 pounds of Corriedale top, dyed by Louet. I fell in love this silver gray the moment I saw it!
Humble beginnings
Over the course of the next 3 weeks, 5 bags of wool (like the one above) transformed into 6 bobbins of lovely singles, waiting to be plyed!
Neon bobbins are by Akerworks. Their products are awesome & you should check them out!
After a brief rest from spinning all that, I plyed in August and ended up with a squishy, sweater-sized pile of aran-weight deliciousness.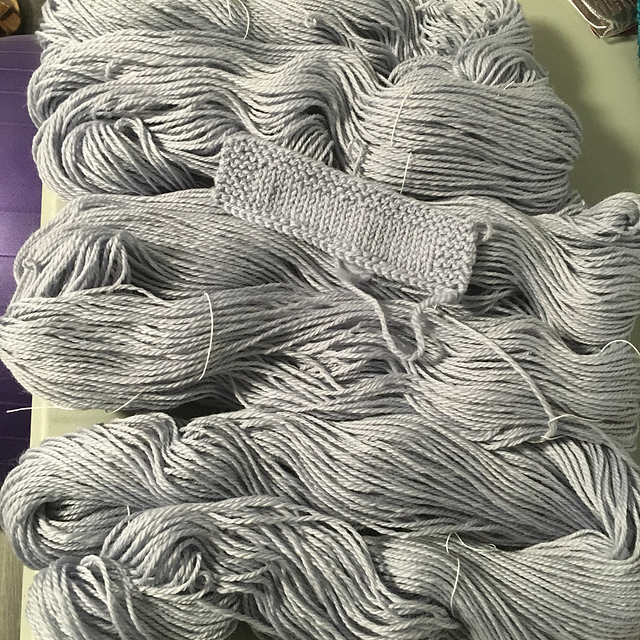 If you want all the juicy details, check out
my progress page
.
I hope to cast on my first ever
hand-spun, hand-knit sweater
before the end of the year!