"Everything happens for a reason."
"Things will work out the way they are supposed to."
"You just have to have faith."
"God has a plan."
Please remove these from your lexicon of faux-sympathetic remarks now. Just stop saying them. At this point, saying nothing is better for the person you're speaking to than dishing out more of this manure. These platitudes are things you say to make yourself feel better, not the person who is in pain. As someone who has been through the ringer mentally, emotionally & physically, I've heard all of these things. And I'd like to explain why every one of these cliches makes me want to scream.
"Everything happens for a reason."
Yeah, there is a reason. There is a reason for everything. There is a reason the sky is blue, why water is wet, why toilets flush in the opposite direction in the southern hemisphere. Please stop implying that the 'reason' something happened has anything to do with me. Or God, for that matter.
The implication in this little tidbit is that the sufferer is going through this trial so that something better can happen in their life later. Getting through a difficult situation doesn't guarantee a sunshiny, greener-on-the-other-side, on-to-bigger-and-better-things ending. Sometimes, the best thing that can happen is that a trial is over. Sometimes, bad things happen because people are broken. Maybe someone is insecure, threatened, narcissistic, you name it and they spew that negativity out onto others. Sometimes, things happen because we make flawed decisions based on inaccurate information ('hindsight is 20/20', anyone?). There is always a reason, but there isn't a divine appointment behind every bad situation in our lives. Stop implying that my job, in a trial, is to find the purpose for this trial.
"Things will work out the way they are supposed to."
Tell that to a survivor of a hate crime who lost part of their family/community.
Tell that to a cancer patient who's just been given time.
Tell that to a battered spouse who is afraid to leave their abuser.
Tell that to someone who has lost a partner, and is now facing life alone.
Tell that to a Holocaust survivor.
Life never promises us that things will work out, and neither does the Bible, except when it talks about God's greater plan for humanity. I personally don't believe that all the things in my life were supposed to happen. There have been terrible things that happened. Were there blessings tucked in along the way? Absolutely. But I don't believe that those things were supposed to happen to me. God didn't bring me into this world to suffer - I cannot and will not believe that a loving, merciful God intends His children to suffer.

I believe those events were chain reactions set in play by people who were broken & hurting and had a desire to make as many around them hurt as possible; people who were selfish and insecure or didn't have a conscience to prevent them from doing harm to another person.

Just because something happens doesn't mean it was supposed to happen. Sometimes, things just happen, and while good can emerge in any situation, it doesn't mean that the outcome is good. Sometimes, the outcome is just as hard to live with as the situation.
"You just have to have faith."

Even the meme about faith above is depicting the concept of faith wrong!! (Sorry Karen Salmonsohn...) Faith isn't a divine belief that God will provide your wants! Come on. Abundant faith is knowing that God will provide what you need (and God's view of our needs may be a shock to some...)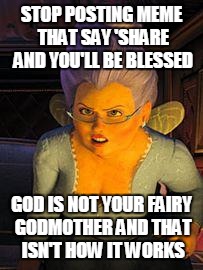 Faith is defined as 'a strong belief or trust in someone or something'. Biblical faith is a bit different: Hebrews 11:1 defines faith simply: "

Now faith is the assurance of things hoped for, the conviction of things not seen."
Faith doesn't imply that we'll get what we want. Faith doesn't promise that things will get better. Secular faith is faith in people or things - both of which will disappoint you more times than not. Spiritual faith is faith in God (for the sake of this post, a Christian God). A God who never promised an easy life. In fact, the Bible promises the opposite. The silver lining is that the Bible promises relief from such trials - but not in the manner we can currently experience.

So, the Bible promises trials or challenges, but doesn't promise that things will be resolved in a way that makes things better for us during this life - those trials are preparing us for a reward after this life comes to a close. There is nothing guaranteeing that your health, wealth or
belongings
will be restored if you have faith.
If you weren't sure what those 'things not seen' were above, check out Paul's
note to the Corinthians
about things unseen:
But we have this treasure in jars of clay to show that this all-surpassing power is from God and not from us.

We are hard pressed on every side, but not crushed; perplexed, but not in despair;

persecuted, but not abandoned; struck down, but not destroyed.

We always carry around in our body the death of Jesus, so that the life of Jesus may also be revealed in our body.

For we who are alive are always being given over to death for Jesus' sake, so that his life may also be revealed in our mortal body.

So then, death is at work in us, but life is at work in you.

It is written: "I believed; therefore I have spoken."Since we have that same spirit of faith, we also believe and therefore speak,

because we know that the one who raised the Lord Jesus from the dead

will also raise us with Jesus

and present us with you to himself.

All this is for your benefit, so that the grace that is reaching more and more people may cause thanksgiving to overflow to the glory of God.

Therefore we do not lose heart. Though outwardly we are wasting away, yet inwardly we are being renewed day by day.

For our light and momentary troubles are achieving for us an eternal glory that far outweighs them all.

So we fix our eyes not on what is seen, but on what is unseen, since what is seen is temporary, but what is unseen is eternal.
If faith brings you comfort, by all means, have faith. But please don't imply that the outcome of any situation is contingent on faith, like a barometer of one's depth of faith, or worse, suggest that a resolution that isn't fair, positive or restorative is an indication of a lack of faith. (That's a whole different can of worms that I won't dress down here - but I've heard it, from Christians, from deacons, from pillars of the church!!) This implication or outright statement is cruel and heartless and usually comes from those who would think they are speaking wisdom, but have never truly experienced loss and have no context for understanding what they are saying. Nor do they fathom the harm they are doing - this is the epitome of kicking someone while they are down. And there are 'Christians' who do it all the time.
"God has a plan."
This passage may be most misused of them all. Please read the whole thing. Please consider the audience and the timing of this proclamation.
Or don't. You could just trust me - or read this post! The author of this post said it BEST:
"When we put verse 11 back into context, we realize that it is not some blanket promise for future blessings, nor does it have anything to do with modern day Christians. Like most promises in the Bible, this was directed at a specific audience and is referring to a specific set of historical events.
While verse 11 can't be used as a promise for Christians, it is a humbling reminder of God's gracious attitude towards us.

"
Please don't get me wrong - God has a plan for us. A plan of redemption for all of us, and the promise of a reward everlasting, an unseen reward, a crown of life. That should be an encouragement, however morbid and martyr-like it may sound.
But please don't remind someone in the midst of their trial that God has a plan and stop there. To stop there is to say that God intended for something difficult to happen to us and, again, implies that God will have a divine hand in the outcome. The only outcome we are promised is an eternal one.
Please stop and think before the next time you're feeling one of these platitudes on the tip of your tongue. While it may feel harmless to you, it may feel anything but to the very person you're trying to comfort. The very thing that you are saying to help fortify someone's faith may very well become a stumbling block to the same. Paul always says it better than I do, so I'll let him wrap this one up, in his passage about stumbling blocks (Paul isn't writing about cliches in this passage, but something equally inconsequential-seeming):
Make up your mind not to put any stumbling block or obstacle in the way of a brother or sister...

.

Let us therefore make every effort to do what leads to peace and to mutual edification.
Peace to you.